naab
Passive 2-Channel Media DI-Box
For connecting media devices (e.g., a laptop) to PA systems
Reliably eliminates ground loop hum and interfering signals
Galvanic transformer isolation
Inputs as 2 x 6.3 mm jacks (balanced/unbalanced) 2 x RCA, 1 x mini jack stereo
Optimal impedance matching to avoid sound losses
Passive construction, no power supply required
Solid casing made of aluminium and steel
For connecting media devices (e.g., a laptop) to PA systems
Reliably eliminates ground loop hum and interfering signals
Galvanic transformer isolation
Inputs as 2 x 6.3 mm jacks (balanced/unbalanced) 2 x RCA, 1 x mini jack stereo
Optimal impedance matching to avoid sound losses
Passive construction, no power supply required
Solid casing made of aluminium and steel
Description
If you connect a laptop to a sound system, in many cases the sound quality leaves a lot to be desired. It hums and crackles, sometimes there is also a loss of sound in the low and high frequencies. The Palmer naab, a two-channel media DI box, provides a reliable solution for this situation.
Its best in class isolating transformers and the switchable hard or soft ground lifts prevent any humming. The transformers also ensure a perfect level and impedance adjustment. The result is clean sound without any noise.
If necessary, the Palmer naab can be switched from stereo to mono, which is often very useful in practice. The mono sum signal is then available at both XLR outputs at the same time; this way, the naab can also be used as a split box.
On the input side, there is a wide range of connections: 2 x 6.3 mm jack sockets, which can be balanced or unbalanced, as well as 2x RCA and 1x 3.5mm mini jack (stereo). This eliminates the need for adapter cables - which you always forget to take with you anyway! The outputs are professional XLR sockets; their balanced wiring allows even longer cable runs without any noise.
Due to its passive mode of operation, the Palmer naab does not need a power supply; this makes it extremely failure-proof, especially as the robust metal housing can withstand a lot. The Palmer naab is the ace up the sleeve for every lecture traveller, DJ and sound engineer.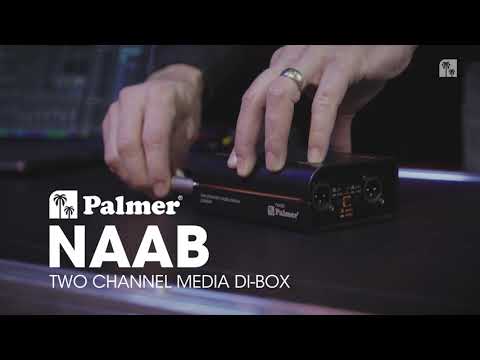 Specifications
| | |
| --- | --- |
| Product type | line isolator |
| Channels | 2 |
| Type | passive |
| Transformer isolated | Yes |
| Inputs | 2 |
| input type | unbalanced |
| Input connectors | 3.5 mm TRS, 6.3 mm jack, RCA |
| Outputs | 2 |
| Output type | balanced |
| Output connectors | XLR |
| Ground lift switch | Yes |
| Additional Features | Mono summing switch |
| Housing | Aluminium continuous casting |
| Dimension (H/W/D) | 140 x 50 x 58 mm |
| Weight | 0,555 kg |
| Ambient temperature during operation | -20 - 70 °C |
| Relative Humidity | < 80 %, not condensing |
| Accessories (included) | Inscription label (tour label), rubber feet |
| | |
| --- | --- |
| Max. input level (< 1% THD, 20 Hz) | + 14 dBu |
| Max. input level (< 1% THD, 1 kHz) | + 32 dBu |
| Frequency response (±0,2dB, relative 1kHz) | 5 Hz - 60 kHz |
| Input impedance (1 kHz) | 10 kOhm |
| Output impedance (1 kHz) | 80 Ohm(s) |
| THD (30 Hz,-10 dBV, unity, unweighted) | < 0,03 % |
| THD (1 kHz, - 10 dBV, unity, unweighted) | < 0,0008 % |
| IMD (SMPTE) (60 Hz / 7 kHz, 4:1, +4 dBu) | < 0,002 % |
| Transformer ratio | 3.16 : 1 |