Grand Audition MKII
24-Channel Loudspeaker Switching System
24 switchable balanced line outputs
Intuitive browser-based control software
Individual level control on each output
Multiple channel selection
Usable for multi-room audio distribution
High-quality analogue signal path
Instant channel switching with no noise or interference
XLR line inputs and built-in USB media player
Up to three devices cascadable
24 switchable balanced line outputs
Intuitive browser-based control software
Individual level control on each output
Multiple channel selection
Usable for multi-room audio distribution
High-quality analogue signal path
Instant channel switching with no noise or interference
XLR line inputs and built-in USB media player
Up to three devices cascadable
Description
When tasting wine, it is important that a comparison is as neutral as possible. The same applies to selecting loudspeakers.To accurately judge sound characteristics, it is essential to listen to different loudspeakers under the same conditions.
Comfortable loudspeaker routing with variable level control for an uncompromising comparison on the sales floor, along with multi-monitor and multi-room applications, are just some of the ways the GrandAudition MK2 can be effectively put to use.
GrandAudition MKII lets you connect 16 individual loudspeakers or eight loudspeaker pairs and up to eight subwoofers - all with balanced line-level XLR connectors and housed in two 19" rack units. Depending on how you want to use GrandAudition MK2, the outputs can be selected either individually or as stereo pairs via an intuitive browser-based app or from the unit itself.
Thereby you can choose to just switch between loudspeakers or freely configure any output combination you want, making it not only the ideal solution for a loudspeaker presentation, but also an excellent choice as a central-control-unit for trade fairs, in laboratories and for multi-room sound distribution.
Source material is supplied from a mixer, CD player or digital audio workstation through two balanced XLR inputs - with volume control, of course. But that's not all. GrandAudition MKII is also equipped with a built-in USB media player on which reference titles can be accessed in WAV, AIF, FLAC, MP3 and OGG data formats.
Highlight of GrandAudition MKII
The browser-based remote can be controlled on a tablet or laptop, offering maximum operating convenience. Ethernet and WLAN-capable devices can be used for complete configuration and control of the unit, including channel naming, media player, and other practical functions.
The ability to individually adjust the level for each output and its quick and noiseless switching mechanism, makes it possible to accurately compare loudspeakers and help you reliably guide your customers to select the right loudspeaker. Routing applications that use different levels for each output can also be set up, and a fully analogue signal path with the highest quality is also of course guaranteed with Palmer.
If necessary, you can cascade units to triple the impressive number of 16 channels plus 8 outputs and thus manage even the largest routing scenarios for monitors, such as in presentation areas. You can also use the subwoofer outputs to connect additional loudspeakers without experiencing any technical drawbacks.
In addition to powered loudspeakers, passive loudspeakers can be incorporated with power amps. Signals can also be distributed over multiple line outputs for other applications, for example, by connecting as many as 24 headphone amplifiers to one source signal - an invaluable aid in conference technology and at trade fairs. And to top it all off, Grand Audition MKII performs remarkably well in measuring laboratories.
In short, GrandAudition MKII, with its clearly arranged features and ease of use, offers comfortable loudspeaker routing with professional sound neutrality.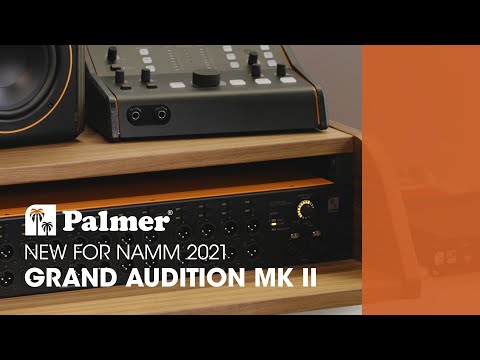 Specifications
Controls Front panel
1 x Encoder pushbutton, 24 x pushbutton
Display elements front side
2 x signal source LED (XLR / Player, Dual-color signal/clip LED, LED ring for main/channel volume with 0dB and mute LED indicator
Front Panel connectores
2 x XLR 3 pin female, 24 x male XLR socket
Controls Element Back Panel
mains voltage selector, Power On/Off, reset
Connections rear side
2 x XLR, 2 x XLR 3 pin female, 3-pole IEC mains connection (mains socket), Micro-USB for service purposes, RJ45 (Ethernet), USB stick
Operating voltage
100 V AC - 240 V AC, 50 - 60 Hz
Ambient temperature (in operation)
0 - 40 °C
Installation Height
19" / 2 U
Dimensions (W x H x D)
482,6 x 89,4 x 282,3 mm
Cabinet surface
Powder-coated