STUDIMON 5
Powered 5" Nearfield Studio Monitor
5" woofer and 0.75" soft dome tweeter
60-W RMS bi-amping power amplifier
Frequencyrange 50 Hz - 20 kHz
Balanced XLR and 6.35 mm stereo jack input
Elegant and robust housing
5" woofer and 0.75" soft dome tweeter
60-W RMS bi-amping power amplifier
Frequencyrange 50 Hz - 20 kHz
Balanced XLR and 6.35 mm stereo jack input
Elegant and robust housing
POWERED 5" NEARFIELD STUDIO MONITOR
When producing and mixing your music or editing your videos you'll need studio monitors with absolutely honest sound reproduction where all elements can be heard separately from each other. The STUDIMON 5 nearfield studio monitors offer accurate sound reproduction, two powerful 30-watt class AB power bi-amplifiers and an elegant design that seamlessly complements every studio environment — even at home.
With its 3/4" silk dome tweeter, you'll hear every detail in the stereo field of your mix up to 20 kHz. The magnetically shielded 5" woofer and, rear bass-reflex aperture will give you deep and defined bass frequencies down to 50 Hz. This is all you need to make your low end clear and pop out on most consumer systems, including smartphones.
The back panel provides all needed connections in every Home- and professional Studio environment. Balanced XLR and 6.35 mm stereo jack inputs guarantee disruption-free signal transmission, while a practical volume controller rounds off the loudspeaker's features.
Whether you're making music, creating content or your next live stream, STUDIMON 5 ensures a true representation of your mix, so you can make confident mixing decisions to be true to your sound.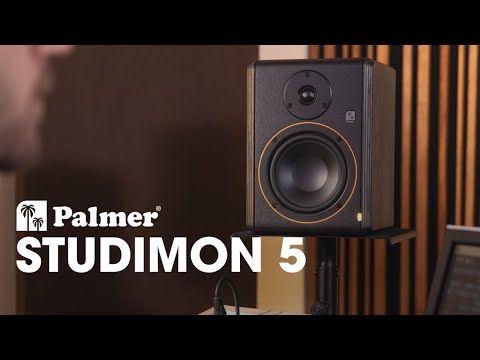 Specifications
Product type
Other Studio and Recording Equipment
Low/mid Woofer dimensions
5 "
Woofer dimensions (mm)
127 mm
Woofer magnet
80 mm Ferrit
HF driver dimensions
0.75 "
HF driver dimention (mm)
19 mm
HF driver magnet
28 mm Neodym
HF driver brand
Custom-made
Dispersion (H x V)
120 ° x 120 °
System Power (RMS)
2 x 30 W
Frequency response
70 - 20000 Hz (-3dB)
Frequency range
50 - 20000 Hz
Crossover frequency
2500 Hz
Signal-to-noise ratio
85 dB
Protection circuits
Overtemperature, short circuit
Input impedance
10,000 Ohm(s)
Controls
mains switch (on/off), volume control
Line input connectors
6.3 mm stereo jack (balanced), XLR (balanced)
Operating voltage
Switching power supply
Operating voltage
100 V AC - 240 V AC, 50 - 60 Hz
Cabinet material
Birch Plywood, MDF
Housing Wall Strength
15 mm
Cabinet surface
Laminated, stained
Cabinet construction
Bass Reflex
Accessories (included)
Power cord
We'll delve into key distinctions that separate studio monitors from regular speakers, consider whether active or passive monitors are more appropriate for your needs, and explore the importance of monitor size.